Surroundings
Our riding club is situated right in the middle of the natural reserve of Circeo.
It takes 20 min on horseback through the beautiful woods with ancient cork-oak trees and past the lake shore to reach the beach - 22 km of uncontaminated nature with sandy dunes as their natural border. For further information see e.g. Mare del Lazio, Sabaudia Online, SanFeliceCirceo.org, Parco del Circeo, ProprietÓ Scalfati.

Circeo had already been populated long before it became a Roman colony in 393 B.C.. Later it was occupied by the Knights Templar in 1250, to become today one of the busiest beach resorts of Lazio.

In addition to unforgettable riding experiences there are also plenty of other choices for sporting activities, just to name a few: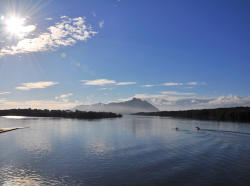 Tennis: Tennis Master's Club
Sailing courses offered by La Scuola Vela e di Navigazione Sabaudia
Lega Navale offers a variety of water sports: Lega Navale
Or try a bird's eye view of the area with Flying Club Sabaudia
Day trips from Rome are feasible, but should you like to stay - and it is highly recommended to remain longer! - we can help with accommodation. There are various possibilities:

There are also plenty of other attractions in the area, just to name a few:

Guided tours and educational activities for kids and adults alike in the Parco Nazionale del Circeo.
A variety of boat trips to the off-shore islands (Isole Pontine) of Ponza, Palmarola, Zannone and Ventotene (circeoponza.it, ponzaturismo.it).
Sightseeing at Sermoneta, a beautiful medieval town with an important castle and a rich culture. You could stay at Ostello San Nicola. Sermoneta is half-way between Rome and our stables and makes for a great stop-over point.
Should you be in Rome you could have a linguistic and cultural experience at Percorsi d'Italiano, the right training centre for those who want to learn Italian through a tailor-made training programme in the classroom and then heading out to apply your skills in a real-world context.